Happy warm spring! Liveliness is all around, nature waking up and plants blossoming. I could not miss this opportunity to write about plant, floral and nature inspired patterns.
I think we all remember wallpaper of days gone by. The popular ones had repetitive flower or plant patterns, usually small elements with soothing colours, nothing outrageous. Either all the walls were covered with it or half the wall while the bottom was left plain.
Now a days, nature themed wall décor has become more exiting and fearless. It looks like we might get out of same this repetitive wallpaper pattern. Let's explore...
To be honest I do not like flower patterns at all. In any design, fashion, interior anything. I love real plants and would rather have that then human created clones of it. But I have to say bravo to this black bass wallpaper with huge flowers.

I love this picture. Huge flowers that create depth and different volumes are just extraordinary. This idea reaches back to the 16th century as designers are borrowing from the Dutch Masters and embracing their style. The armchair blends in, but also stands out as it's back is green and plain coloured. A really great interior taste example.
Lately designers are into leafy plants. Shops offer many different plants to grow that not require much maintenance. Well these plant patterns will bring liveliness into your home and do not need to be watered.

My heaven looks like this :) Black and green

If you follow trends, you'll notice many interiors are white these days. Now you can add floral patterns to create a truly unique look.

Or add accents to your white interior

This sofa looks so comfy.
Changing bedding always good way to follow trends without making drastic changes in you home.
If you would like something more soft and happy.

Find veggies!

Water colours on your wall. So calming, neat and clean.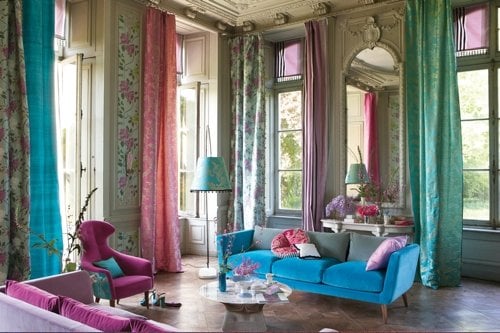 Paper flowers.

Cozy dining.

If you like be different just paint your own wall or ask your friends to do it and have something unique and one off.
If you don't think you can do it yourself, use stencil
Or get one of these clever helpers

Some interior to provoke the little designer in your head.

Be brave but not forceful. You can always ask for little help. Use Stark for your spring makeover!