An invite to be brave with your home in 2017
Hey!
I would like to share with you all something I love! This gorgeous black interior and the lady who created it.
Fiona Ellis is an interior designer and co-owner of Brave Boutique, a furniture and accessories shop. When asked about using black in interior design, she said "It just highlights art so well."
Fiona Ellis in her dining room. Green has never looked greener.
The sitting room. Amazing interior details. But what I like the most is the ceiling. Usually it is left as neutral part of interior. However here we can see how thoughtful decisions enhance the hole interior.
Some unique details. Some might like it some might not. But it would be hard to replace it with some other details that would work so well.
Hall leading into the dining room.
View from dining room over the living room. Notice how strong all the colours look.
"I've always had a peacock chair," Ellis says with a laugh. "I think they're just amazing."
Living in the art itself.
This corridor wall is decorated with animal print wallpaper that works so well with the hanging birdcage light and bright chair.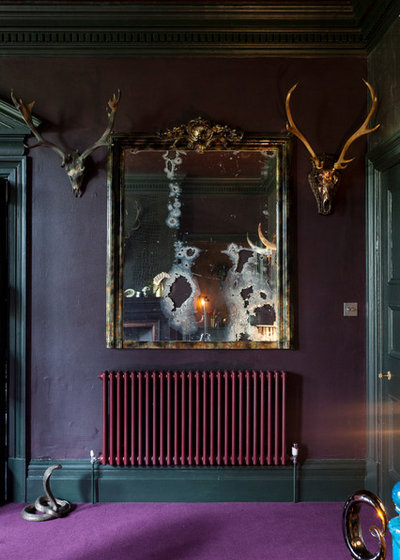 This grand mirror, which has been in Ellis' possession for more than 20 years.
Have you ever seen ceilings like that? And this is the kitchen. Works perfectly well with the entire house.
Master bedroom. One accent line by the ceilings in the same colour as the bed makes the space and objects blend in.
A panoramic view of the master bedroom reveals more colourful details and a practical wardrobe.
Bathroom. Another animal print on the walls, belnding with the rest of the house's interior.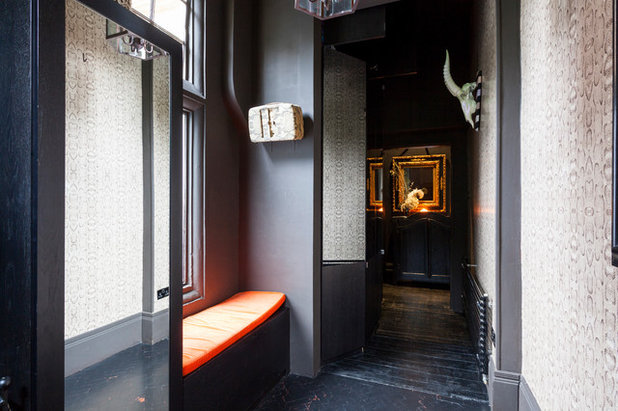 Another corridor. All the spaces in the house complement each other. Nothing is missed or forget. I think it is one of the most important things while designing your space. Every single space matters.
When asked to described herself in three words Fiona said PASSIONATE, SENSUAL, BRAVE. Her work showcases all three of those feelings.
In 2017 let's all have passion and bravery (including myself). Let's live how we want and where we want. I believe that home is part of us, so lets be brave to create it. And when the time comes, our home will help us to be brave too.
Articles referenced:

http://bocadolobo.com/blog/exclusive/the-leaders-of-design-interview-with-fiona-ellis-from-ellis-eye-interiors/

http://www.houzz.com/ideabooks/47862906/list/my-houzz-a-creative-home-bursting-with-dark-colors